Belly Dance near Kailua Kona, Big Island, HI
Welcome to Aloha Belly Dance! We hold belly dance classes and workshops in South Kona, within 20 minutes of downtown Kailua Kona.
The "Art of Mystery" – Intro to Belly Dance Veils!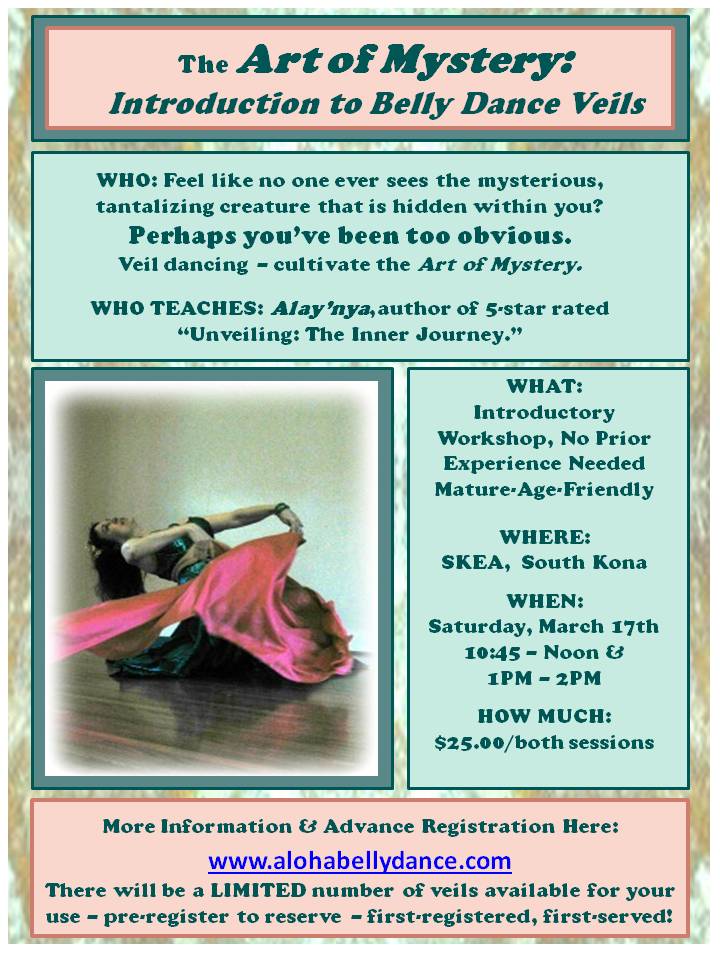 Register for this workshop HERE: Workshop – the Art of Mystery
Classes and How to Be Informed
Classes are held at SKEA, the Society for Kona's Education and Art, in South Kona.
Classes WILL BEGIN on March 10th. The cost is $15.00 per class.
Opt-In (see form to the right) to get your first class free.
Class times are on Saturday mornings, from 10:45 AM – Noon, except for holiday weekends, and a few times when there is a day-long workshop at SKEA.
Three ways to be sure that you have the latest word:
Use the Opt-In form on the right; this will give you weekly emails – schedule updates, cool self-study resources, music lists, etc. Look for your Monday Morning Message from Alay'nya.
Check this web page; but really, who can remember to do that? Use the Opt-In form on the right. Opt-In. Confirm. Move the Alay'nya on behalf of Aloha Belly Dance emails from Promotions or Junk to your Primary Inbox. (REAL important!)
Check Facebook; and of course do that "Friend" thing, and ESPECIALLY check in on Aloha Belly Dance!
To join us on Facebook, please go to: Aloha Belly Dance on Facebook.
Class Schedule
Class schedule for Spring Quarter: March thru May:
March
Saturday, March 10 – Regular class – Introduction to belly dance with veil (10:45 – Noon)
Saturday, March 17- Special Introductory Workshop: The Art of Mystery – belly dance with veils (Cost: $25 for both sessions; $15 for one session. Some veils will be available for use – preregister with Alay'nya to reserve a veil! More details to be announced. To pre-register: email Alay'nya at alaynya@alaynya.com.)

Session 1: Introduction to dancing with your veil: 10:45 – Noon
Lunch break: Noon – 1PM
Session 2: Movements across the floor, creating patterns in space with your veil: 1 – 2PM

Saturday, March 24 – Regular class – belly dance with veil (10:45 – Noon)
Saturday, March 31 – NO CLASS! – Easter weekend
April
Saturday, April 7 – YES (Yea!)
Saturday, April 14 – YES (Yea!)
Saturday, April 21 – YES (Yea!)
Saturday, April 28 – YES (Yea!)
May
Saturday, May 5 – YES (Yea!)
Saturday, May 12- Special fun Mother / Daughter workshop: Two for the price of one! (Details to be announced.)
Saturday, May 17- YES (Yea!)
Saturday, May 26- NO CLASS! – Memorial Day weekend
Immediate Benefits – Aloha Belly Dance
You can transform your posture, the way that you hold your body, and the way you move within a single session. Learn Alay'na's Seven-Point Geek-to-Goddess transformational checklist. (Seven points, 30 seconds. Done!)
To kick off your Spring Quarter studies with us (here in the studio or online, from any place in the world), join us at: Spring – the Season of Air.
Aloha and Mahalos!